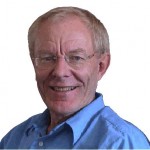 Ian is the Apostolic Director of the International Association of Healing Ministries and the Founder of Citadel Ministries. He also serves as a part of the R.A.I.N apostolic team. He has been actively a leading figure in the healing ministry for more than four decades and has authored two books which are available at this web site.
Ian has traveled to over 65 nations bringing the good news that every believer can and should heal the sick. He has also been used to start several revivals throughout the world. Ian is married to Rosemary and they live in the West Country, UK they have one grown son who lives in USA.
Ian has been training and activating people into the healing ministry since he received a prophecy that God wanted him to build a "Mountain of men and women who would move in the power of God" Over the years many hundreds have already been trained with like passion and DNA, now it is time for the next step and to take it to the Nations via the internet.
In recognition of Ian's service to the Body of Christ he was, two years ago, awarded an honorary degree of Doctor of Ministry.
Ian was called by God whilst practising Accountancy as a Chartered Accountant at a time when he had little or no faith for healing as he stammered very severely and could never imagine becoming a preacher. Over many years God performed His own version of SOZO on Ian and slowly Ian began to be healed! From the very first day Ian was surprised as God regularly performed miracles through him. The meetings were mainly small in size but that did not stop God using Ian to perform creative body part miracles from the very start of Ian's ministry
Ian has been a speaker at many large Lutheran and Full Gospel Business Mens conventions, and churches and Bible Schools, in over 60 nations around the world.